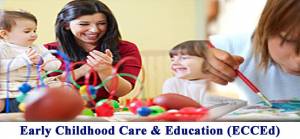 Childhood is a gift and the most cherished part of one's life. The fact cannot be overlooked that proper care and nurturing since the childhood is essential between the age of 0-6. It is the childhood that defines an adult. The guidance defines the way in which a person will behave when reaches adulthood. Thus, special care needs to be showered upon children as they are tender. A small mistake may cause a big havoc in a child's life. If one loves to play with kids and have inclination towards learning more about them then a child care school should be the first move towards it. These schools provide in-depth knowledge of a child's behavioral pattern and ways in which a teacher should react.
Such courses are either vocational, bachelor or graduation courses or even masters program. Some training academies provide a diploma in care and education courses. At a vocational school no prior experience is required to be a trainee and neither so at the diploma academies. They teach an aspiring candidate, how to handle all kind of kids. Humans are not alike with subtle changes in everyone's perspective and behavior and so are those little wonders. While some kids may be aggressive enough all the time, some may cry, a little may smile all the time, But every child behaves in a manner different to others. Thus, a detailed knowledge on how to handle them is a must.
This courses emphasize on the overall child development, and so they mould their trainees or the "future teachers" in a way so as to be loved by every child. The course will work towards developing the skills to educate and care for a child. It will also enhance one's susceptibility to the special care required by children with disabilities. For example, in care and education courses, a trainee would be taught how to deal with infants, children with learning difficulty and those with disabilities.
The knowledge is not just limited to theory but a deep insight on the practical knowledge is also imparted to the teachers. By the end of the course, a person shall acquire the rightful skills to deal with pre-school children and the correct attitude that needs to be maintained. The course is highly recommended for those students who have a strong urge for children and be a teacher, for those who need to start up their own venture like a pre-school, for mothers who wish to enhance their caring skills. A diploma in care and education courses tends to be part time in nature and so it is beneficial for those who already are working as a teacher and wish to improve their job statistics. Being with kids is a really beautiful experience and nurturing them is a blessing.
Resource box: Searching for an academy to train in care and education courses? National Academy is one such institute that provide diploma courses in education and care. visit us for more details.